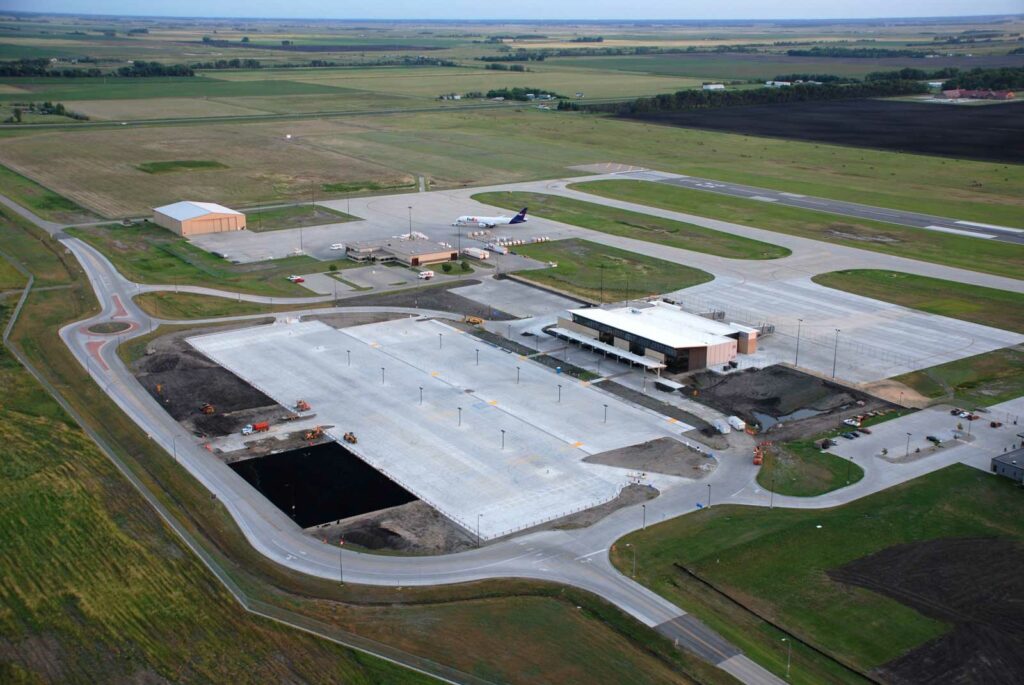 2011 – Byron L. Dorgan Terminal Construction
The Byron L. Dorgan Terminal construction began on July 2, 2009 and was opened for it's first arrival on August 29, 2011. Photos and videos of the construction project and celebratory events are in album tabs below.
The Byron L. Dorgan Terminal received its first arrival on the evening of August 29th and its first departure on August 30th, 2011. To passengers, everything went as smoothly as could be, and almost surprisingly, it went fairly smooth for the airport employees as well. A lot of work went into planning for the move, and those involved were congratulated for a job well done.
The new airline terminal has been called the new "front door" to the community because passengers visiting for the first time are often arriving via the Grand Forks International Airport. First impressions can be vital to business relationships and the Byron L. Dorgan Terminal is likely just that for business men and women, but for all visitors. The Grand Forks Regional Airport Authority offices are now located in the new terminal on the south end of the second floor. The close proximity has made it more convenient for airport employees and passengers to bring their questions and concerns to airport administrators. They were previously located in a separate building next to the old terminal.
Celebrations - August 10th & 11th, 2011
The Byron L. Dorgan Terminal building was officially dedicated on August 10th with Sen. Byron L. Dorgan (Ret.) attending along with Sens. Kent Conrad and John Hoeven, Rep. Rick Berg, Gov. Jack Dalrymple, Mayor Michael Brown and numerous other community leaders. The evening started out with tours, a flag ceremony and the ribbon cutting with speeches from Senator Hoeven, Governor Dalrymple and Mayor Brown. A social hour in the main lobby was next, followed by a catered dinner in the passenger waiting area. 260 guests heard from more honored speakers at the dinner program: Representative Berg, Senator Conrad, Senator Dorgan, as well as Board Chairman Steve Kuhlman.
Our public open house on August 11th featured tours through the new terminal building, an aircraft display outdoors, and prizes such as airplane rides from GFK Flight Support and free airline tickets from Delta Air Lines and Allegiant. The event was attended by over 5,000 people, many expressing their excitement about having this beautiful facility as the new "front door" to our community.
See below to view photos and videos of these events.