Only $1/day!  Advertising has never been this affordable!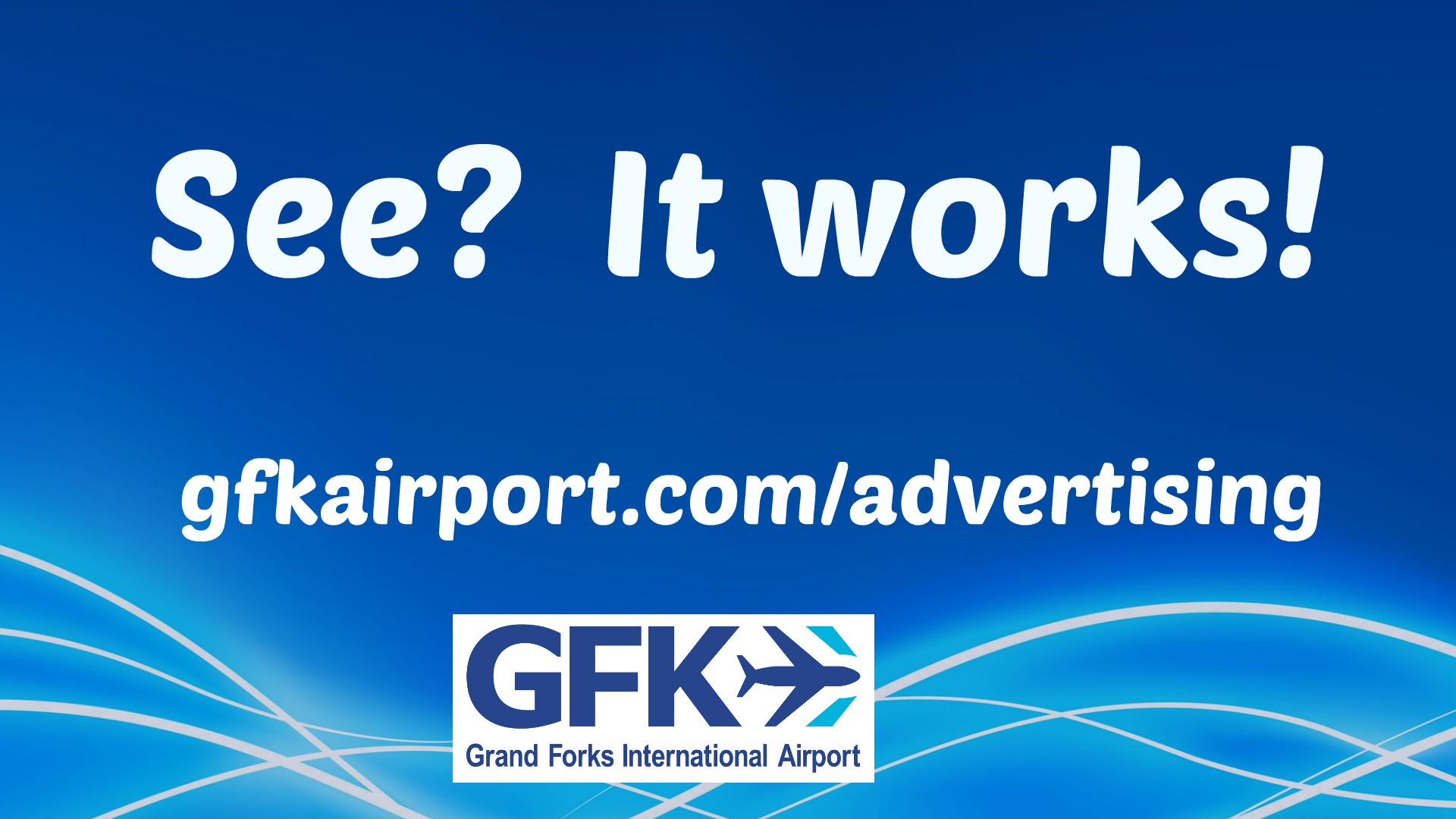 Huge Audiences
On 13 screens:
Your ad is exposed to over 112,000 passengers who depart GFK each year, and…
DOUBLE that number when you count arriving passengers, then…
TRIPLE it to count the people who are there to say goodbye or hello
That's approximately 336,000 people a year
Divide that by 365 days and you'll see that you are placing your ad in front of 920 people EACH DAY.
Keep in mind
Your ad will be present 24 hours a day.
The airport has a captive audience. With an average wait time of 55 minutes before a flight and 15-20 minutes in baggage claim, your message has a long time to affect your audience.
Airport advertising costs less! You get a lower cost per thousand than TV, radio, or newspaper. At the same time, your message is delivered by highly visible graphics.
Reach your target audience:  People who fly – whether for business or pleasure – may be the kind of customers you wish to attract to your own business, whether you offer them:

Hospitality
Dining out
Clothing
Sporting equipment
Concerts, events
Wellness services
Books, DVDs
Entertainment
Employment
Other goods & services
With all these positives, it is easy to see that having an airport presence will work hard for you on many levels.
Pricing
4 full screens in the baggage claim area: $365/yr*, or
4 shared screens in gate area: $365/yr*, or
5 shared screens in lobby areas: $365/yr*, or
Any two of the above groups for $700/yr*, or
Your best deal:  All 13 screens for only $1,000/yr*
*A signed agreement is required.
Specs and details
Graphics (.jpg) and Videos (no sound) are accepted.
Baggage claim area ads are full screen 1920x1080px.
Gate area ads are 1920x216px and share space with television and flight information.
Ads on the flight information display screens (lobbies) are 1080x480px across the bottom.
Your message rotates frequently on high-res, highly visible digital display screens using high-tech software!
What's more, it's flexible! Choose to use multiple ads within your 15-second slot, PLUS you can change your ad as often as you wish!
Summary
Put your message in front of hundreds of people each day 24/7
$365 for 1 year to advertise on up to five display screens or $1,000 for 1 year for all thirteen screens
State-of-the-art displays and software for digital graphic advertising
Multiple ads in your :15 slot, and/or change your ad as often as you wish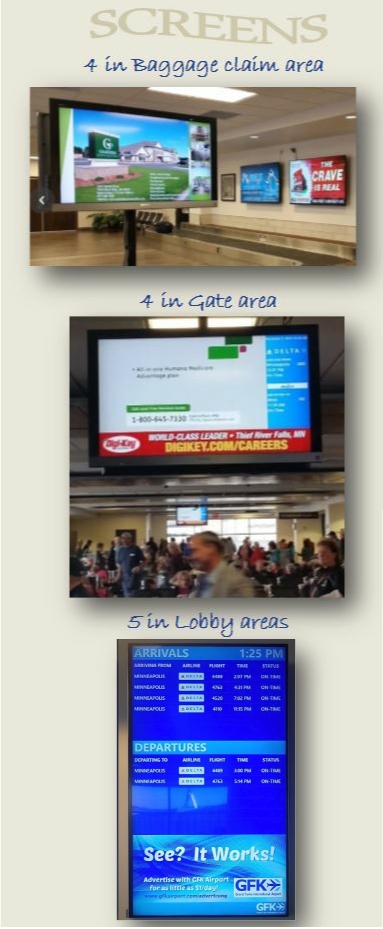 Interested? Contact us TODAY @ (701) 795-6981 ext. 600 or email kolson@gfkairport.com