Welcome to GFK Airport!
True Cost Calculator
Do you think that flying from another airport is less expensive? Check out our True Cost Calculator and see that GFK is not only price comparable, but convenient, easy check ins and shorter TSA Lines.
ND Dept of Heath Travel Guidance
PROTECT YOURSELF AND YOUR COMMUNITY BY FOLLOWING
NORTH DAKOTA DEPARTMENT OF HEALTH'S OFFICIAL TRAVEL GUIDANCE
TSA Coronavirus Info
As of 04/30/2021 The Transportation Security Administration (TSA) is extending the face mask requirement for individuals across all transportation networks throughout the United States, including at airports, onboard commercial aircraft, on over-the-road buses, and on commuter bus and rail systems through January 18, 2022.
CDC
As of 05/14/2021 Fully vaccinated people can resume activities without wearing a mask or physically distancing, except where required by federal, state, local, tribal, or territorial laws, rules, and regulations, including local business and workplace guidance. TSA STILL REQUIRES MASKS IN ALL AIRPORTS
COVID Testing
We do NOT offer COVID testing at GFK Airport but there are other options within Grand Forks
Explore our "What's Happening" updates, and learn about the Airport's history.
Please contact us with any suggestions for the website, or to make your travel experience even more enjoyable.
Your Airport...Simply Grand.
- GFK Airport -
Airport Guides
Browse these guides for the essentials to navigating GFK. We've got all the information you need on:
- GFK Airport -
Contact Information
(701) 795-6981 (ext 600)  Email Contact
Grand Forks Regional
Airport Authority
Ryan Riesinger, Executive Director
Grand Forks International Airport
Mark Andrews Field
Byron L. Dorgan Terminal
2301 Airport Dr.
Grand Forks, ND 58203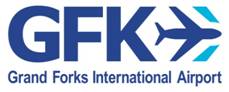 - GFK Airport -
A Great Place to Start
Allegiant flies out of here and gives you access to the west at a heck of a deal. Cozy place with free wifi and professional staff/TSA. Felt right at home.
- Garrett Meade
Great airport for a small urban center. The Grand Forks terminal offers international service and is a short drive for Winnipeggers looking for a deal on airfare. Parking is inexpensive, and although the terminal is small with limited amenities, it is clean and well maintained.
-Matt Bialek 
For a smaller airport, this is a gem. The staff is helpful, the facility is well maintained, and there were comfortable places to wait during a weather delay. Taxi service from the facility was great. There was simply nothing to find fault with this airport.
-Jason Sides
- GFK Airport -
Employee Spotlights
- GFK Airport -
What's Happening
Congrats to GFK's Delta Global Services (DGS) manager and staff! They were recently awarded the 2017 "Station of the Year" for excellence in their category of Delta Air Line's non-hub stations. The DGS team in Grand Forks was ranked number one out of 50 similar-sized airports in the United States after being evaluated on boarding…
Read more here
We're super excited to welcome hockey fans to our passenger terminal this week when they board planes to Vegas for the UND Hall of Fame game against Minnesota! Vegas Baby! Go Fighting Hawks!
Read more here