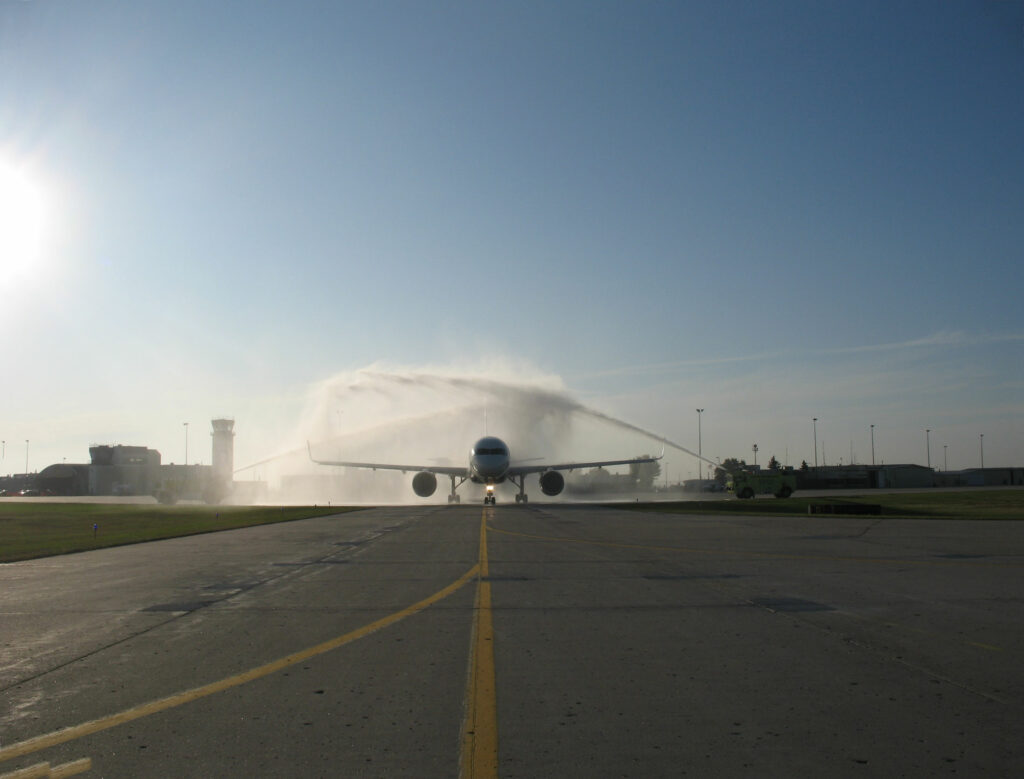 Northern Valley Honor Flight - September 25 & 26, 2009
Written by Barb Zavala, Northern Valley Honor Flight Chair
The Northern Valley Honor Flight, based out of Grand Forks, ND, recently completed its second trip sending a total of 198 WWII veterans, between the two flights, to Washington, DC. The trip, which was completely free for our area WWII veterans, was provided by funds donated by our generous communities. This trip was
instrumental to show our appreciation and gratitude to our WWII "heroes," who saved the world and returned home to build our country.

After checking in at the Red River High School in Grand Forks, bright and early on the departure date, the veterans were put on buses and escorted by police and Patriot Guard members to the Grand Forks International Airport. Grand Forks AFB men and women were helping them all along the way with their bags, ensuring a safe trip. When they got on the plane, Governor Hoeven was on board to shake each person's hand. Prior to departing, our plane received a "water cannon salute" along with the Grand Forks AFB Honor Guard providing honors to our WWI veterans. Once in Washington D.C., the veterans were taken to the WWII Memorial that was recently built in 2004. When they arrived there, they were greeted by Senator Bob Dole and Senator Byron Dorgan. After spending time admiring such a beautiful monument, it was then on to the rest of the Memorial Mall where they were able to see the Lincoln, Korean and Vietnam Memorials. The group was then taken to the Hyatt Regency Hotel in Crystal City, VA, where they had a banquet and spent the night. At the banquet the veterans were surprised by a visit from Senator Kent Conrad, who spoke to them and also brought along a letter from President Obama, written especially for our local veterans. The guest speaker for the banquet was Jim Miklaszewski, Chief Pentagon Correspondent. The evening ended with our veterans receiving a special v-mail call, letters from home. A very special treat.

The second day began with our veterans enjoying breakfast and listening to a current walking guard from the Tomb of the Unknown Soldier. This young soldier told our veterans what it was like to be a guard and all the details they went through with their uniforms, etc. He was very gracious and answered all questions. After
breakfast, it was on the buses to Arlington Cemetery to see just what the young soldier was talking about. They enjoyed a bus tour of Arlington and were able to stop at John F. Kennedy's gravesite and the Tomb of the Unknown Soldier to see the Changing of the Guard. The veterans were all very impressed with this ceremony.

Right outside of Arlington Cemetery sits the Women's Memorial. On this second trip we were fortunate to have 5 women (4 on the first flight) and we were able to get a quick tour of the Women's Memorial with each of the women being presented a certificate.

It was then on to the Iwo Jima Memorial where the veterans had a nice picnic lunch outside on the grass. When lunch was finished, they were back on the bus for a city tour on the way to the Air and Space Museum. It was here that the veterans saw planes such as the Enola Gay.

Following the museum tour, the veterans were taken to the airport where they were brought right out onto the flight line to board the plane. They had an enjoyable trip back after an exhausting 2 days. Upon their return to Grand Forks, they were once again escorted by police and Patriot Guard on their way back to Red River High School for a surprise "Welcome Home" ceremony. Family, friends and our community members were all waiting to show their appreciation for our veterans. Grand Forks AFB members were again on hand to help with bags and also give our veterans a special treat - a discharge ceremony. Each WWII veteran was presented with a Certificate of Discharge from the Northern Valley Honor Flight - and a Grateful Nation! Brig General Al Palmer, Chief of Staff, ND Air National Guard spoke and then Colonel John Michel, Grand Forks AFB Wing Commander provided a discharge speech.

It was an absolute honor for the committee to provide this trip to these deserving veterans.
The Grand Force Air Force Base wrote an article with pictures at this link.
The Grand Forks International Airport was proud to have been a part of this wonderful event. Airport Operations gave a water salute* as they left. See photos below.
*A water salute occurs for ceremonial purposes when a vehicle travels under plumes of water expelled by one or more fire fighting vehicles. At an airport, typically an even number of vehicles will line up perpendicularly on the sides of the taxiway or apron, and the plumes of water will form a series of arches.