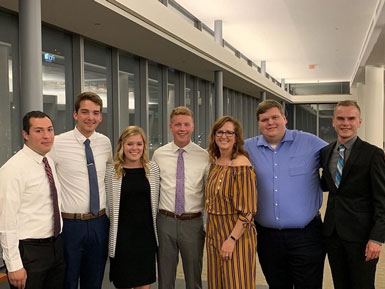 Korissa's Blog: Attending the AAAE Annual Conference
The American Association of Airport Executives (AAAE) is the world's largest professional organization for airport executives. AAAE's 6,500 individual members represent over 875 airports across America and 560 members represent countless companies and organizations that support airports. Over the years, since the organization's birth in 1928, AAAE has grown into an organization that delivers a huge range of industry services and professional development opportunities including training, meetings and conferences, and a highly respected accreditation program. The organization is known for its member leadership participation and the development of life-long professional and personal bonds among members and leaders.
Being an Airport Management major at UND, I am fortunate enough to be involved in the school's chapter of AAAE and that allowed me to attend the 91st AAAE Annual Conference in Boston, MA in June 2019! Over the course of the 4-day conference, I attended many student workshops, witness meetings, got to know my fellow UND students, hung out in the exhibit hall, had some incredible seafood, participated in a mentor match up, and networked with hundreds of people! I am very lucky to have been able to attend as a college senior, as most people get to attend as an executive.
The student workshops were geared to helping the 60 college kids that attended get comfortable with networking, going through the initial job search process, the accreditation program, the importance of internships, and much more. The airport world is a small world, and everyone I met loved their job, was very enthusiastic, willing to help me out with anything, and I was treated as a young professional already. I participated in the mentor match up, and I think I was matched with a very good mentor! Bill Hopper is the current airport director of the Pitt-Greenville Airport in North Carolina. He introduced me to what felt like the entire Northeast region of the US and gave me lots of good tips and advice for my final year of college and my launch into the professional world. In the student organization forum, we learned lots of good ways to get more people involved, stay connected and involved, and make our chapters of AAAE fun and exciting, and since I am the current Vice President at UND, that was very helpful to me! I also met many other kids majoring in similar aviation and management degrees from Western Michigan University, Eastern Kentucky University, Oklahoma State, the University of Oklahoma, and Metropolitan State in Denver. During a session tied specifically to internships, we learned the value of having that experience going into the job interview process and how it ties to professional development if I would want to move up the director ladder and/or get my accreditation. The panelists talked about how great it is to get the wide range of learning from a small airport and to get really involved with the internship, which is exactly what I am getting at GFK!
The Exhibit Hall in the convention center was filled with companies, organization, engineering firms, and any organizations that work with or support airports. The very long list includes Mead and Hunt, McFarland Johnson, Boston Logan International Airport (the host of the conference), Lyft, Airport Business Magazine, Daktronics Inc, Denver International Airport, Honeywell Building Solutions, KLJ, Oshkosh Airport Products, and Signature Flight Support. This was the place where we had multiple breakfasts, lunches, Starbucks, and met probably hundreds of attendees. This was the main place I got network, and I met airport directors, operations managers and supervisors, maintenance managers, CEOs of companies, senior project managers, and many more people from literally everywhere in the States. My stack of business cards has about 20 different states represented. It was a huge opportunity for me to get my name out there and meet a ton of other professionals that may have been in my shoes before and many were eager to help me out in any way they can in my future.
Other huge highlights of the week for me was hanging out with airport executives from Wisconsin, Maine, and Kentucky, to name a few, after the days activities, attending the Great Lakes AAAE Chapter meeting, listening to historian Doris Goodwin during the general session, attending the Academic Relations Committee meeting, having lunch with the Asheville and Rapid City managers, having fun at the Fenway Park Party, being invited to the Mead & Hunt and the McFarland Johnson parties, and finally the final banquet. There the new chair of AAAE was announced, had a delicious meal, and I made it to the picture slideshow on the big screen! It was an incredible week for me to get my feet wet in this industry and I took advantage of it!